North Killingholme
11-12-2013
30-05-2017
1207
53°38'16"N 000°17'28"W

Runway: 04/22 - 2000yds - concrete
Runway: 09/27 - 1400yds - concrete
Runway: 15/33 - 1400yds - concrete
North Killingholme air field (RAF North Killingholme) was an airfield 230 kilometers north of London.
The airfield was not the first time the site hosted an airfield, as one had existed here during World War I, the first aerodrome in Lincolnshire, known as Lindsey.

North Killingholme was built fairly late in the war, construction did not commence until August 1942. As a Class A bomber field, it featured three intersecting runways, a taxi track, 36 parkings and two T2 hangars. Later, a B1-type hangar was also added for use by contractors of the Ministry of Aircraft Production. Accommodation facilities were built on dispersed sites in nearby farmland, hosting 2245 personnel.
The airfield was allocated to 1 Group and opened in the fall of 1943. Early in 1944 it was occupied by 550 Sqn, which had been formed only 6 weeks earlier at RAF Grimsby. The squadron ended up being the only one associated with the airfield, disbanding in October 1945. During 14 months of operations from North Killlingholme, it had participated in about 190 raids, with 58 Lancasters failing to return and another four destroyed in crashes.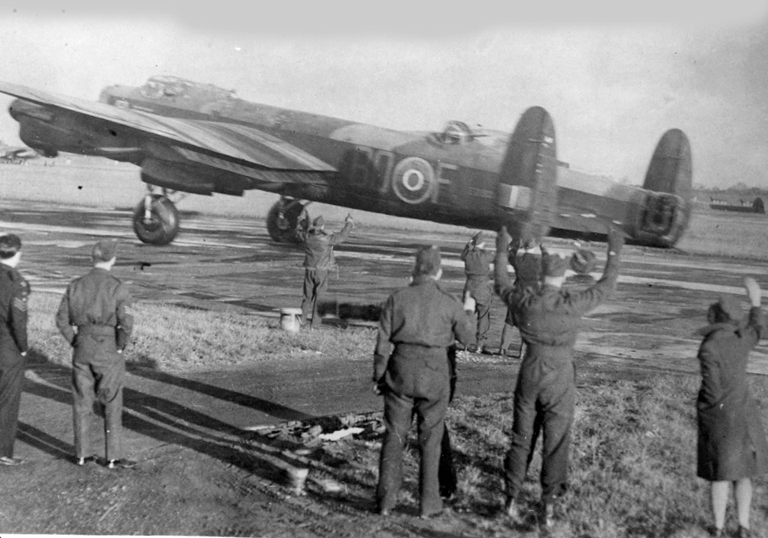 Lancaster ED905 "Press on Regardless" taking off on its 100th operational flight (550squadronassociation.org.uk).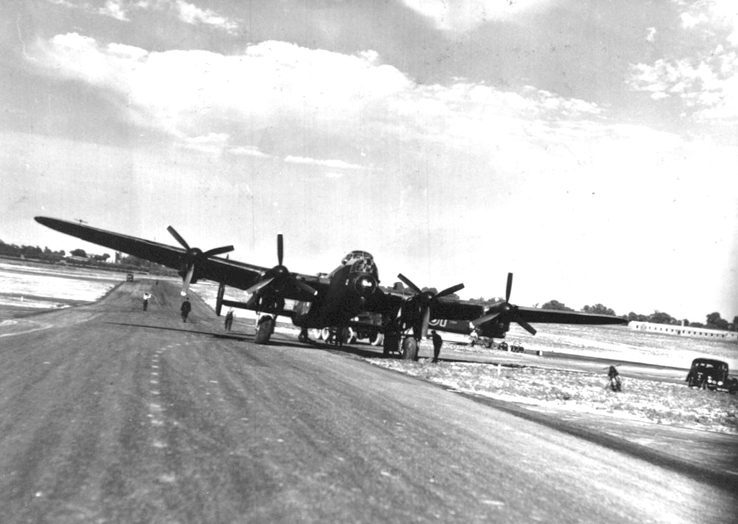 "Q" Queenie bogged down off the perimeter track before take off at 19.30 hours on 7 July 1944 for a raid on Caen (550squadronassociation.org.uk).



Photo taken Oct 1943 at N. Killingholme, probably still wearing code HW-R. Bouchard and crew flew EE139 'Phantom of the Ruhr' on 19 occassions, 15 on ops, including 10 ops to Berlin from Oct 1943 to May 1944  with 100 and 550 Squadron. Lancaster EE-139 is currently represented by the BBMF Lancaster (CDN_PILOT, on Flickr).
The RAF did not make use of the airfield after the war. Still, it remained in a fairly complete state over the next 30 years. The hangars and many of the original buildings were taken over for light industrial and storage purposes. It is now known as the North Killingholme Industrial Estate.
The runways provided container parkings. On the west side of the airfield, Low Farm built poultry sheds. There is also a large depot for Volvo construction equipment. Finally, a number of high voltage power lines cross the former airfield.



The former airfield in 2009 (Google Earth).



2017 photo of the former airfield (Magnus Emanuelsson)

Note: this airfield was described earlier, using information supplied on the RAF website. Due to a 3rd party copyright claim, the part between 1940 and 1945 was rewritten, omitting certain information on units and dates.
---
Related airfields North Killingholme